MAIN RELEASES BANDS STORE ORDER MP3 CONTACT LINKS GUESTBOOK


NOUMENA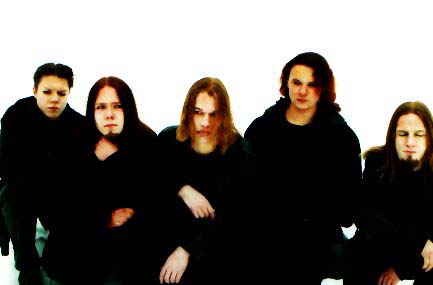 Hannu Ville Antti Ilkka Tuukka
Bass Guitar Vocals Drums Guitar
Biography
Noumena is willing to guide you from one atmosphere to another, from beautiful moments to the apocalyptic decadence and ruin, all the way to the edge of life and sanity. Noumena is an impressive union of Scandinavian metal tradition and the 80's heavy hassle, spiced with rock spirit and great nuances. The songs are based on raw guitars, headbangin' rhythms, catchy melodies, deep throat vocals and seducing female parts.
Noumena was formed in 1998, partly as a counter strike against springtime and degeneration of metal music. Members had played together for years, so there wasn't any problems to start the efficient work of creation. In summer '98 the first demo Aeons was recorded. While summer was changing into gloomy autumn Noumena composed new material. The band entered Studio Watercastle early in 1999 and the second demo, titled For the Fragile One, was completed. Both the CDs were warmly welcomed. In the beginning of its career Noumena showed its position in the metal scene. Songs were played on radio programs, demo reviews were encouraging and gigs were wild.
The real breakthrough seemed to be close at hand when Noumena signed a deal with Singapore record label, Dies Irae Records, in summer 1999. In November the band went to Astia-studio to create its debut album with Anssi Kippo. Unfortunately, the worst happened: the label faced serious financial problems, the publishing of the debut album delayed and the contract broke down.
The whole year 2000 Noumena tried in vain to look for a new label. In April 2001 the members entered with furious anger Studio Watercastle again. With Arttu Sarvanne they recorded a rockin' and crushin' killer promo, Sala. The band was very pleased with the result as well as the audience. In May 2001 the first Noumena music video The Heralds of Fall, was completed.
With its new promo CD and music video, Noumena is ready to convince every last one of unbelievers. Because of their self confidence, skills and fatalistic zeal there is no way to consider Noumena equal to demo bands. Next Noumena will be compared with bands on the top of metal scene!
Bio taken from www.thenoumena.com
In October 2001, Noumena were approached, not only with a request to buy several of their demo's, but also the proposition of releasing their unreleased debut album, from Catharsis Records (ME). After some negotion we came to an agreement, and in December 2001 it was decided that Noumena would be the first release on Catharsis Records and owner of the somewhat prestigious CRCD 001 catalog number. After much work and several set backs throughout the first few months of 2002, both band and label are proud to finally have "Pride/Fall" available to the world. Featuring 10 tracks, 6 of which were from the original album recording (2 having been unavailable anywhere else before), and 4 tracks previously available as the "Sala" demo, plus the video clip for "Heralds Of Fall".